The 2019 MacBook Pro is in our own opinion the best high end affordable laptop on the market today for workers, educators, producers and students. When I say high end and affordable I am also including after sale costs. Powerful speakers, finger friendly keyboard, retina screen, Touch Bar, Touch ID and a headset jack makes this MacBook a star.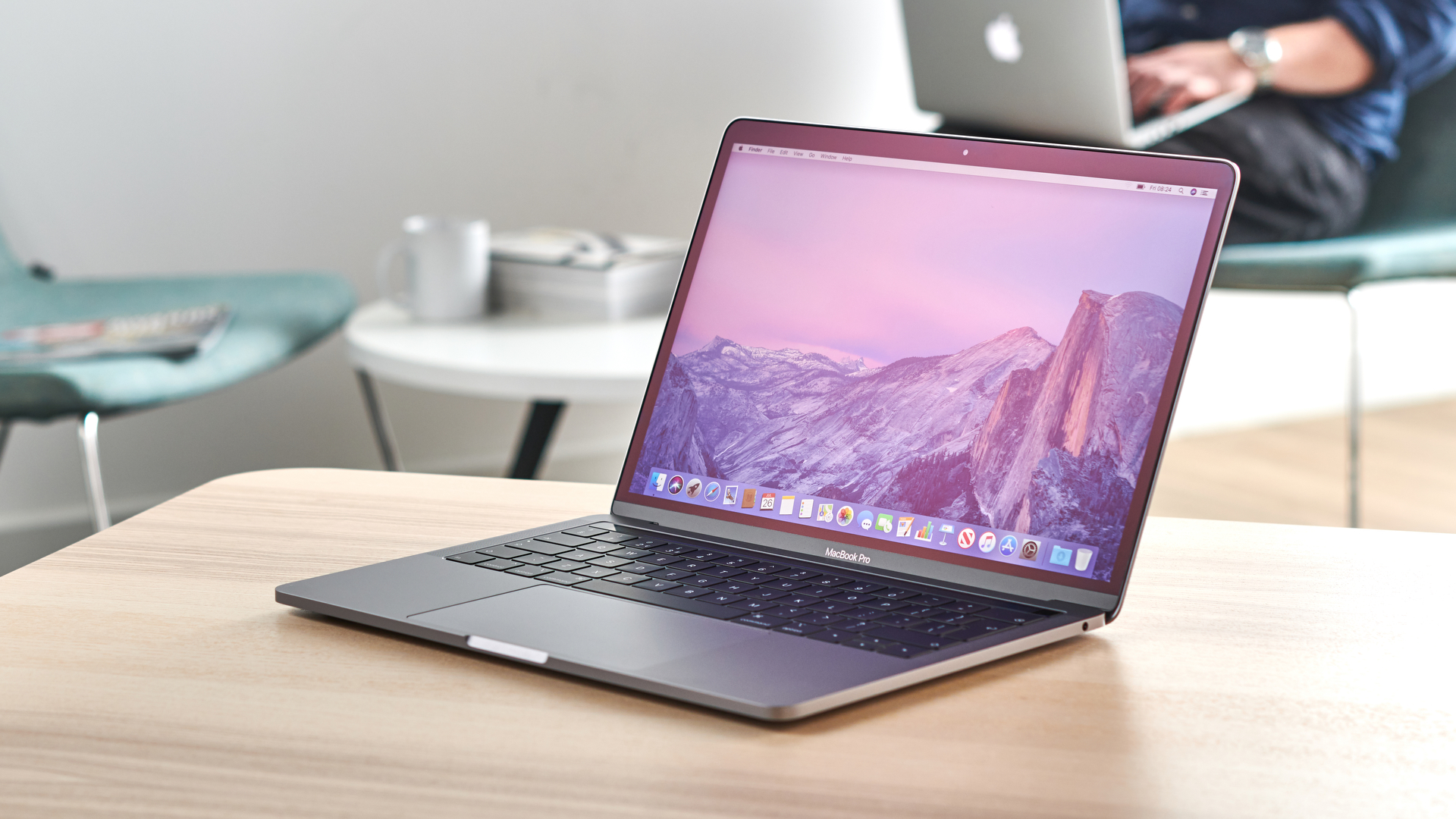 First of all let us take a walk down memory lane to the second time I saw a Mac in the Fox Valley library. It was different, revolutionary and it was a whole unit with everything just within reach and most important point of all it was in the Library. The mouse took a bit of getting used to but it was really a fun and colorful experience. You didn't have to bend down and insert the cables the way you did with others and that was my first impression of Mac systems…..Plug and play.
Macs are high powered machines that are being used by everyday people, students and professionals because they are user friendly and very durable and in essence you control your own system and not some guy in a foreign country holding your information for ransom. The only way they could build this amazing system was to think of the user when designing it. You have to believe and use what makes you a better employee, government official, newscaster, creative, or even a doctor.
How truly different Macs are from what we were educated with but yet all are able to do the job efficiently and with less time. This MacBook Pro is small but it is powerful and this time they included the Touch Bar which is a great addition. While you're typing you can select the right word from the suggestions on the Touch Bar just like we can on our iPhones which could make it faster to complete sentences. It has a faster boot up than predecessors and powers up immediately after lifting the lid so you don't get a physical on button like before you will be ready for work, study or creative projects in no time. The Speaker on this feels like its surround sound and for some of us who live with family we can appreciate the studio monitor like speakers without waking up the whole house playing around with Garage Band. You can hear the base of some of your most favorite tracks with this MacBook. Personally I use them to finally hear my songs since I've had to use my headphones as my studio speakers.
Let's now go back to 2012 when the Macbook Mid 2012 I was using was made. Macbook mid 2012 came with a tougher aluminum body and was more equipped with all the dings and peripherals that a business professional needed but much thicker in comparison to the 2019 MacBook Pro. I had an 8gb 500GB HDD but the load time was far slower than this MacBook Pro 2019. It even got hotter in less time on the MacBook Pro Mid 2012 than the MacBook Pro 2019.
Connection and Display
This is the first Mac that we purchased brand new and we loved opening the box with satisfaction knowing it was worth the investment. The Display screen is beautiful and the True Tone Retina makes this a great first time Retina Mac for us. One big change is on this 2019 MacBook Pro they dropped all the drives and extra ports for 2 USB C Thunderbolt 3 ports or 4 depending on the model you get. We opted for the middle tier of the options so we got only 2. It could be a bit stressful not having some ports for those work with a lot of extended devices and are used to just plugging their USBs in but its nothing a USB C Hub won't help you solve.
We personally won't really miss every connection if it would make the system much secure and faster and we see that. We Mac fans have to realize that sometimes things phase out simply because we can no longer support or prevent attack from these devices as they have been around for decades and people have had time to exploit them.
The only way we can protect our systems is when we create our own way that does not involve malicious intent like our blog. Do I love and recommend the MacBook Pro 2019 and even the latest 2020 one? Yes but I like any wise IT graduate out there would always choose the Year before model than the latest one. There would be more support and reviews for it so you gain wisdom from other users like you.

Why? Because once you go Mac its hard to go back

Sola
Macs Over the years….
Earlier versions of the Macbook were plastic coated and more or less like word processors it was when they merged the Mac and the notebook that we got the MacBook Pro so this is a great refreshing entry into the next gen era. I know older computers were huge to carry around and slow but one thing they've maintained at Apple for years is they are long-lasting. I caught a few friends adding duck tape to keep the hinges together. Some even used toothpicks as a make shift stylus when the keys popped out. I personally managed mine that was literally bleeding from the screen until I couldn't anymore. I even wonder how I was able to finish songs and make some blog posts not able to see the true color.
As a company Apple has rewarded its loyal customers with affordable products that are well engineered and made with the user in mind. This is a different approach as most companies are more focussed on the mass production and not the user interaction. Since I switched to Apple my laptop became my tool not my accessory. They keyboard is much more friendly to type with so I find myself writing more as opposed to having to type alternating hands because of the travel time between keys. Whats amazing about this purchase as well as the latest 2020 MacBook Pro is that you get a free years subscription to Apple plus to try and see all that's available.
I was introduced to one way back in the early 90's by my sister. This was my first encounter with this amazing product. I had a certificate by then in Microsoft basic training in Primary School so it was fun for me to navigate a system I knew nothing about but fast forward a decade later I am part of the ecosystem of Mac. I used it to write a short story which eventually became a show on Netflix (Excited!) and even though I didn't get to keep it my first impressions were that there really were no distractions at all. The system seemed basic but the process was more direct and didn't really involve complicated processes. It was just a word processor at the time but in time it became more it became this amazing product. The product lasted way longer than its competition and the resell value typically higher because these products are typically well kept even though it is used everyday. From plastic to an aluminum body it was revolutionary in protecting your investment meaning everyday accidents didn't mean the computer was ruined.
I also remember spotting a few people managing the system with a cracked trackpad. Every one makes do with what they have in order to afford the things they want at the right time. This means don't mock anyone who appears broke but is willing to invest in what will help them make more money.
The key to keeping an Apple system free of dents, scratches and dings is to carefully handle the product and carry it with both hands. Sure its light and portable but keep a firm grip with both hands and use your elbows as additional support because anyone could bump into you at any moment and our natural reaction most times is to raise our hands when that happens. As apple customers we know we are were getting Steve's best even though he is not with us the reliability of a Mac is as sure as the name of that famous song 'Return of The Mac'
We do not need a CD player except externally because that space is a magnet for dust and small rodents it just takes up space until the next time you happen to use the CD again. Many might not agree with me especially those who work in the audio visual industry that are required to burn cd's or even those in the photography world but there are extended cd drivers on the market that we can purchase. We stream our music, play games on the cloud and play YouTube videos our technology upgrades must reflect this and make it harder for systems to be compromised.
Let us not forget that as technology evolves we must to. The MacBook Pro 2019 is actually fun to work with and I love the Battery life as well I was really pushing my old one and the check battery indicator had been on since I purchased it but I couldn't be bothered to replace it. Many may miss the Magsafe simply because we do make clumsy moves sometimes but not having it is a great reminder that we must indeed be more careful with our investments. Overall the MacBook Pro 2019 is another great achievement for apple bridging the gap between the past and the present. Perhaps one day I'll review the 2020 version one day but I want to advise Apple to wait at least 2 – 5 years to study the market and see how they can innovate and stay ahead of competition. Just because its everywhere and out every year doesn't mean its the best option we have to make it the best choice.
Overall rating 9/10 never a dull moment with an Apple product