The Five-star rated Radisson Blu Hotel Maputo is a chic beachfront hotel in the Mozambican capital, offering guests first-class amenities, convenience, and efficient, friendly service. The hotel overlooks the warm Indian Ocean and prides itself in its sophisticated accommodation, lavish dining and opulent conference facilities, making this an ideal destination for both business and pleasure travel.
Accommodation
The accommodation is elegantly furnished and incorporates cutting-edge design features that will enhance your comfort and relaxation. The hotel boasts 154 spacious, air-conditioned rooms and suites, each tailored to ensure that guests want for nothing for the duration of their stay. The hotel has a modern and well-equipped fitness centre for the use of all guests. The Junior Suites at this premier hotel feature, in addition to all the standard features, a balcony, and a comfortable lounge area. The Executive Suites offer a private dining area as an additional feature.
Available Rooms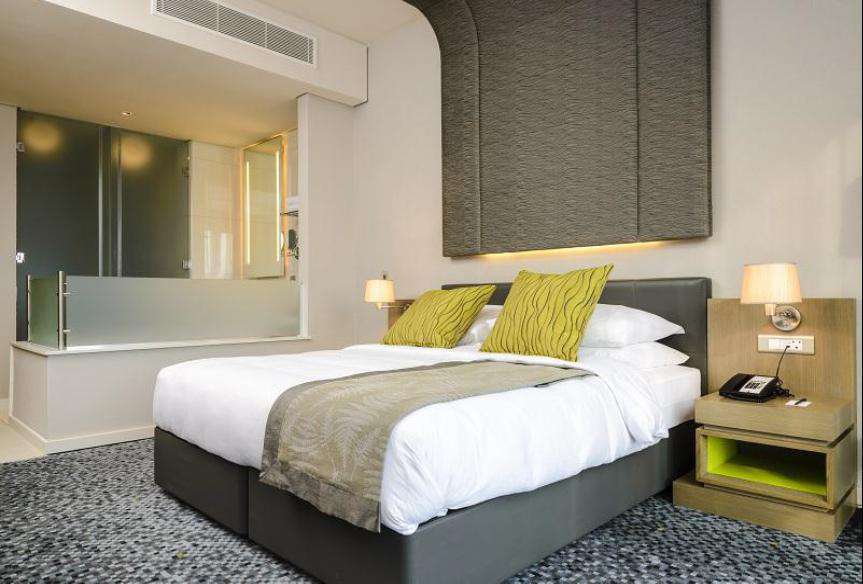 Standard Room
# ROOMS:

154
Room types:
16 Junior suites
2 Senior suites
1 Ambassador suite
1 Presidential suite.
Amenities of the rooms::
Air conditioning
Bathrobe
Beverage maker
En-suite bathroom
Fireplace
Hairdryer
Heater
Housekeeping
In room safe
Internet access
Satellite TV
Tea and coffee making facilities
Telephone.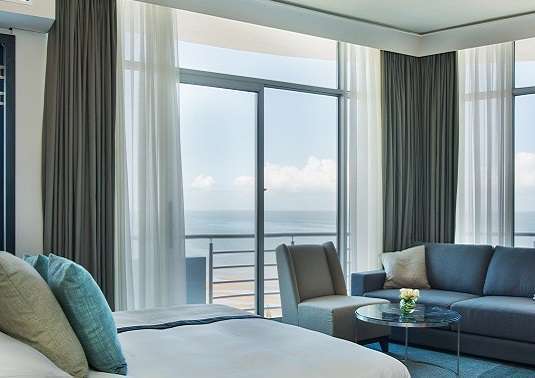 Standard Sea View Room:
Ocean views
Air conditioning
Bathrobe and hairdryer
Beverage maker
En-suite bathroom
Fireplace and heater
Housekeeping
In room safe
Internet access
Satellite TV
Tea and coffee making facilities
Telephone.
Business Class Room features:
Telephone and safe
Premium movies
En-suite bathroom with toiletries
Bathrobe and slippers
Coffee/tea station
WiFi
Mini-bar
Turndown service
Coffee machine
Magazine and newspaper
Facilities
Restaurant and bar
Swimming pool
Poolside bar
Coffee shop
Hair salon
Elevator
Fitness center
Beach access
On-site parking
Conference venues
Spa tub
Services
24-hour reception
Porters
Free WiFi
24-hour room service
Laundry service
Conference facilities
Conferences at the hotel are a very attractive option for corporate visiting the city. The hotel has large state-of-the-art venues and facilities which ensure the world-class standards required by leading corporations. There are a large pre-function room and three stylish meeting rooms – all of which are air-conditioned. All facilities boast free high-speed Internet access, professional conference staff, and high-quality audiovisual equipment.