So what's.a friday without a Foodie? Flat right? Yup Today we have a special recipe for you and your loved ones to just pop in the oven and enjoy the mouthwatering goodness this treat provides. We found the yummiest Calzone recipe on delish.com.
Calzones are seriously underrated. Seen as inferior to the grand pizza pie, calzones are often forgotten about, but why? They are basically an individual pizza all wrapped up. No cheese sliding off or floppy crusts. Just pure deliciousness wrapped up in a pillowy dough. Calzones deserve their chance to shine.
What's good in a calzone?
Here's the true beauty of a calzone. Absolutely EVERYTHING is good in a calzone. Pepperoni, cheese, spinach, sausage, pineapple even! Any topping you love to on your pizza will be even better in a calzone.
Are calzone and pizza dough the same?
Yep! We used our favorite pizza dough to make the dough for calzone and the results are absolutely perfect! That makes it even easier to add calzones into your regular pizza night.
Can you freeze calzones?
Yes! After assembling and cutting slits into your calzone you can freeze the dough. No need to defrost, just add a couple minutes to your baking times. You can also freeze after baking your calzone. Let it cool after baking, then freeze. To reheat pop it in a 500° oven and bake until center is bubbling, about 10 to 15 minutes.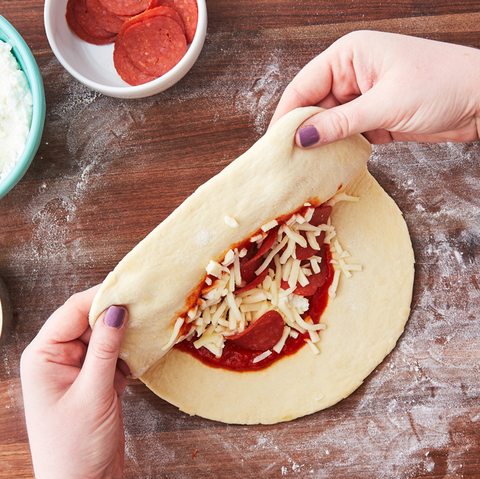 INGREDIENTS
Cooking spray
1 3/4 lb. pizza dough
All-purpose flour, for surface
1 c. pizza sauce
1 c. ricotta
1/2 c. pepperoni
1 c. shredded mozzarella
Extra-virgin olive oil, for brushing
Kosher salt
DIRECTIONS
Preheat oven to 500° and grease two large baking sheets with cooking spray. Divide pizza dough into 4 pieces. On a lightly floured surface, roll one piece of dough out into an 8" circle, about ¼" thick. Spoon pizza sauce in middle of dough, then dot with ricotta and top with pepperoni and mozzarella.
Gently fold dough in half, dampen seams with water and pinch together, then crimp edges all around. Repeat with remaining dough. Transfer to prepared baking sheets. Brush tops with oil and sprinkle with salt. Using kitchen scissors or a sharp knife, slit tops in 2 to 3 spots to create steam vents.
Bake until tops are golden and filling is bubbling, 20 minutes, brushing with more oil halfway through. Let cool 5 minutes before cutting open.