Dear Guests,
This week we are celebrating the lifetime and works of Winnie "Mama Winnie" Mandela.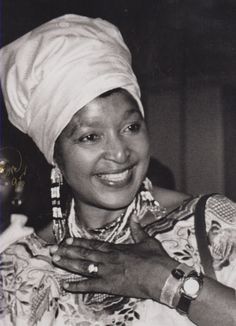 Winnie Madikizela-Mandela OLS (born Nomzamo Winifred Zanyiwe Madikizela; 26 September 1936 – 2 April 2018), also known as Winnie Mandela, was a South African anti-apartheid activist and politician, and the ex-wife of Nelson Mandela. She served as a Member of Parliament from 1994 to 2003, and from 2009 until her death, and was a deputy minister from 1994 to 1996. A member of the African National Congress (ANC) political party, she served on the ANC's National Executive Committee and headed its Women's League. Madikizela-Mandela was known to her supporters as the "Mother of the Nation".
I can safely recommend our readers to visit South Africa to understand and get a true picture of what they both did. For you to be great in this world you have to be BOLD you have to think of others and be prepared to face danger when fighting for freedom. The reward is a generation filled with love and understanding and devoid of bitterness.
May her soul rest in Peace and Her Legacy Live On.